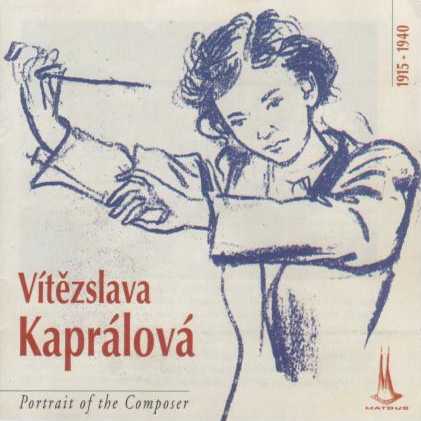 Studio Matous MK 0049-2 011 (1998). Available directly from the publisher.
Performed by Czech Symphony Orchestra of Brno with Frantisek Jilek, Janacek Quartet, Lenka Skornickova (soprano), Vilem Pribyl (tenor), Ivan Merka (violoncello), Jaroslav Smykal, Jitka Drobilkova and Jiri Skovajsa (pno.).
Pre-mastering: Karel Soukenik
Sound engineers: Jindrich Michalik, Vaclav Roubal, Frantisek Slechticky, Vlastimil Zetka
Music directors: Peter Reznicek (tracks 1, 5-8, 11-15), with Jiri Hudec (2-4) and Lukas Matousek (9-10)
Booklet text: Jindra Bartova
Translation: Ludmila Hatrick
Booklet Editor: Alena Jelenkova
Producer: Simon Matousek
Recorded by Czech Radio (Brno) in 1974, 1975, 1982, 1991, and at the Domovina Studio in October 1998.
Please note that the music recorded on this compact disc is in print. Click here for the complete discography of Kapralova's music.
"This excellent and generously filled issue does a great deal to establish her credentials as a genuinely fascinating voice in inter-war Czech music..." BBC Music Magazine, June 1999.
"[A] moving testimony to a substantial creative personality who had already hit her stride before her career was so cruelly cut short." Tempo, October 2000.
Discoveries aplenty here ... Well worth the quest you will need to make if you want to find this treasurable CD... musicweb.uk, October 2003.
In her short 25 years, Czech composer Vitezslava Kapralova amassed an astonishingly original output that would be the envy of any composer three times her age..." All Music Guide, July 2005.
Great to get to know this composer. Wicher for amazon.co.uk, September 2014.