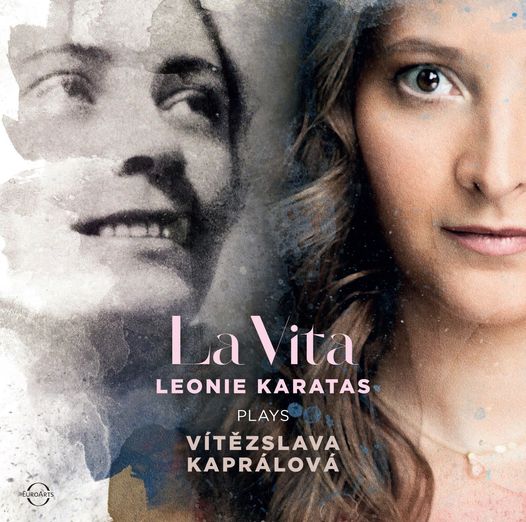 Vitezslava Kapralova: Works for Solo Piano. Performed by Leonie Karatas. EuroArts (2022). Total running time: 70 mins. Available from amazon.de, jpc.de, presto music, and other outlets. Listen to this introduction to the disc by Leonie Karatas on YouTube.

Recorded on June 16–18, 2021 at the Mount of Olives Church in Berlin, Germany. Released: June 10, 2022.

Producer: Luc Moser
Sound Engineer: Peter Weinsheimer
Booklet design: Anja Hoppe
Booklet text: Karla Hartl


"Unbelievable musicality!," remarked Daniel Barenboim after hearing Leonie Karatas, nee Rettig, when she was only fourteen; today, she is considered "one of the great up-and-coming pianists," according to the Norddeutscher Rundfunk. Karatas studied piano at the College of Music, Drama and Media in Hanover with the late Vladimir Krainev who was one of the last pupils of the legendary pianist and pedagogue Heinrich Neuhaus. Her repertoire is extensive, ranging from the sonatas of Domenico Scarlatti to those of Henry Dutilleux and Vita Kapralova. The young pianist has had a busy international career performing at important festivals, such as the Schleswig-Holstein Music Festival, Beethovenfest Bonn, the MiTo SettembreMusica Festival in Milan and Turin, the Altmark Festspiele and pro:Musica concert series, and giving recitals and masterclasses in Canada, China, Argentina, Italy, Portugal, South Africa, Ukraine, Cyprus and Switzerland. Karatas is also a published writer on music. You can find some of her writings on her blog A pianist's mind. For further information about Karatas the pianist, visit her website.

Please note that the music recorded on this compact disc is in print. Click here for the complete discography of Kapralova's music.
From reviews:
The pianist Leonie Karatas dove into [Kapralova's] work quite extensively, presenting an album that allows us to experience the fire, sincerity and outstanding talent of the young composer through every single keystroke. A match made in heaven!
Brigitte Magazine, August 17, 2022
Karatas's disc attests to the great value of multiple readings of the same works. Highly recommended!
amazon.de, September 22, 2022