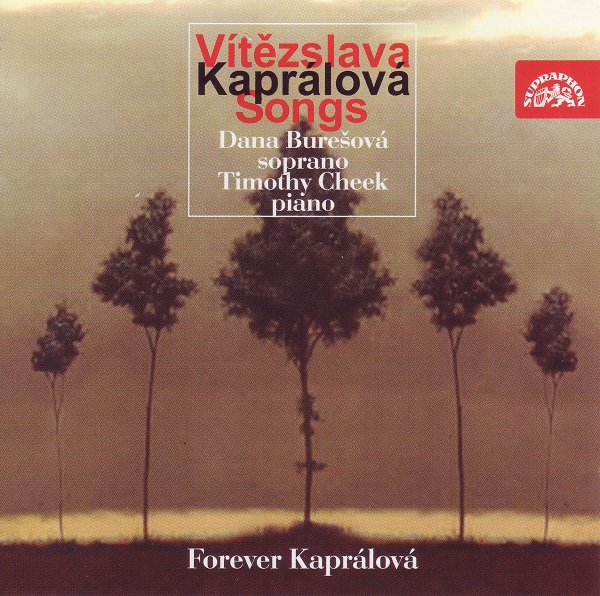 Supraphon SU 3752-2 231 (2003). With a 73-page booklet in English, German, French and Czech. CD (a limited stock) is available from cdmusic.cz and MP3 from Amazon.com, Supraphon Online and from iTunes.
Performed by Dana Buresova (soprano), Timothy Cheek (pno.), Magda Caslavova (flute) and the members of the Herold Quartet.
Music Director: Jaroslav Rybar
Sound Engineer: Stanislav Sykora
Audio Technician: Jiri Hesoun
Booklet text: Timothy Cheek
Translations (text): Ingeborg Baumgartner (German), Nabila Ramdani (French), Karla Hartl and Bohuslava Jelinkova (Czech); (poetry): Timothy Cheek (English), Anna Ohlidalova (German), Emilia Esserova (French)
Graphic design: Jan Weber
Producer: Petr Vit
Recorded digitally at the Domovina Studio in Prague on July 13-15 and 17-20, 2003.
Please note that the music recorded on this compact disc is in print. Click here for the complete discography of Kapralova's music.
Une artiste d'exception... Pierre Barbier, Diapason, Mai 2004

Mesmeric, dreamy and expressive... Rob Barnett, Editor of MusicWeb, November 2003 (full review)

Kapralova est pour le lied tchèque ce que Duparc est pour la mélodie française. Une redécouverte capitale... AbeilleMusique.com

Some of the most purely beautiful music I have heard in a long while... Colin Clarke for MusicWeb.uk (full review)

One of the best CDs in the genre of 20th century art song repertoire recordings. Laura Kafka for the IAWM Journal 2 (Fall 2004) (full review)

There are some real treasures here and for anyone interested in 20th-century Czech music, a fresh perspective on the post-Janacek era. Jan Smaczny, BBC Music Magazine, March 2004 (full review)

Kapralova's group of songs Forever would be a remarkable achievement for any composer, let alone one in her early twenties. Barry Brenesal, Fanfare, January/February 2005 (full review)

Both Buresova and Cheek display expertise in portraying the many intricate and complicated facets of this hauntingly beautiful vocal music, and their CD is a must-have for anyone interested in the music of Kapralova. Michelle Latour, Kapralova Society Journal, Spring 2011 (full review)