KAPRALOVA QUARTET, named after Czech composer Vita Kapralova (1915–1940), was founded in 1995 in Prague, originally under the name of Venus Quartet Prague. In 2001 the ensemble changed its name to pay a tribute to one of the most remarkable women composers of the twentieth century.
Kapralova Quartet has a broad classical repertoire which also includes a number of important compositions of the twentieth century, such as the complete quartets by Alfred Schnittke. The ensemble has recorded for radio and television, and their recordings have been released on compact disc. The ensemble regularly performs abroad, and has delighted audiences in a variety of countries that include France, Germany, Switzerland, Italy, Spain, Great Britain, Japan, Izrael, Cyprus, and Canada.
Kapralova Quartet regularly collaborates with Eugen Indjic [piano], Katerina Englichova [harp], Philippe Cuper and Ludmila Peterkova [clarinet], Skampa Quartet, Prazak Quartet, and Prague Symphony Orchestra.
For their repertoire, discography and contact details visit the ensemble's official website.
KAPRALOVA QUARTET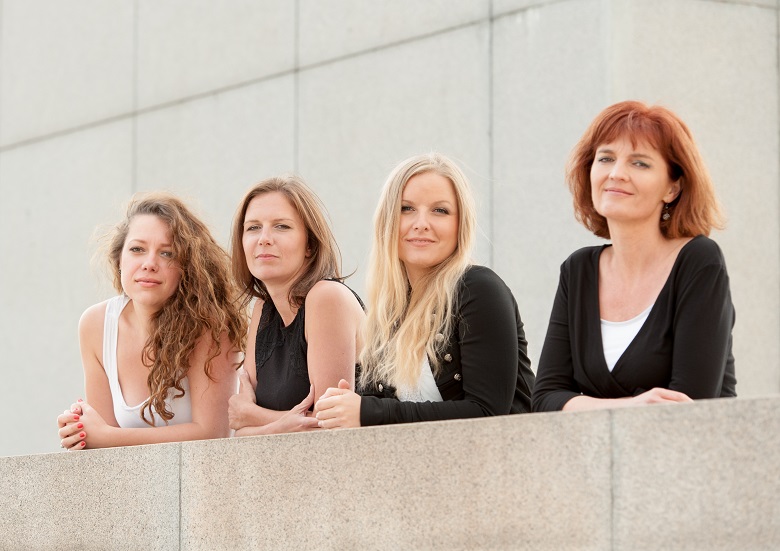 Veronika Panochova [1st violin], Simona Hurnikova [2nd violin], Eva Krestova [viola], Simona Hecova [violoncello]